ARCA Audits
ARCA undertakes site and office audits as part of membership, so supporting member's business performance and promoting professional standards to all parties, including clients.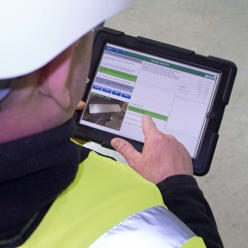 ARCA's site audit scheme is widely acknowledged within the licensed asbestos industry as promoting good practices.
Site Audit Accreditation Scheme
ARCA and Members commit to increasing from three to four unannounced site audits each membership year, another step to continue to maintain high standards of performance ...read more
Members participate in our Site Audit Accreditation Scheme (SAAS) which requires four satisfactory unannounced site audits every year to maintain membership.
These site audits are carried out on notified licensable work and are unannounced, meaning contractors have no prior notice of when or where an audit will take place (excluding Ireland).
ARCA site audits are carried out electronically, using a unique App developed to follow the Association's audit criteria.
The App enables the audit to be scored automatically which is communicated to members, along with the audit report and a separate Corrective Action Report, which includes any non-conformities. This is made available immediately the site audit is completed, via email (signal dependant),with improvements highlighted in importance so a member can take action in a timely manner. So, supporting the maintenance of the high professional standards demanded by the Association.
All Site Audit Reports are now Colour Coded and clearly labelled, so making it clear to all parties, including the HSE at licence renewal and end-clients, the type of audit the report refers to. For example, 'ARCA Site Audit - Unannounced' meaning that the member had no prior notice of an auditor arriving on-site, so provides a stronger level of reassurance of performance.
The ARCA Site Audit Accreditation Scheme is sponsored by Specialist Risk Group (Miles Smith Insurance Solutions).
Additional Site Audits
To support a member's business, quality or health and safety management systems, our trained auditors are available to carry out additional site audits, to the same format and high standard as the Site Audit Accreditation Scheme. These additional site audits can be arranged for a specific site and time or can be unannounced. 
Additional site audits can now be requested online via the portal. Learn more ...
Member Internal Site Audit App
ARCA Full Contracting Members can sign up for the 'Member Internal Site Audit App', so their internal site audits use the same question set as the ARCA audit and are automatically scored. Enabling direct comparisons of external and internal audit results provides a strong management tool.
As the leading trade association we continue to drive professional excellence throughout the industry.

Be part of ARCA and gain from the range of benefits offered… read How to Apply or call us today on 01283 505776