ARCA Announces Charity Week 2018
20th March 2018
Last year, the Association held their second Charity Week. A huge thank you to all of the ARCA / ATaC members and their staff for supporting the Charity Week by donating, biking, skydiving, baking (and eating), the total funds raised were fantastic.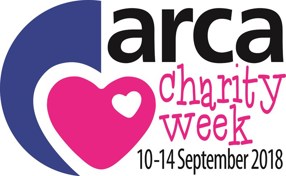 This year, you can get involved during the 10th – 14th September, whether you run, walk, cycle, bake or hold a raffle, all donations can make a difference.
ARCA Charity Week 2018 will support charities; Mesothelioma UK and Wigan and Leigh Hospice.
"We are hoping that even more of our members and their staff get involved with the Charity Week this year to help support our charities", commented Steve Sadley, Chief Executive of ARCA.
The funds you raise can make a difference to those suffering with an asbestos related cancer and to people with a life-limiting illness.
Get Involved
Mesothelioma UK - a national resource dedicated to supporting people with this asbestos cancer, providing specialist Mesothelioma information & support and improved care & treatment through a growing network of clinical nurse specialists (now 18 posted at NHS hospitals throughout the UK).
Wigan and Leigh Hospice - has been providing palliative care for adult patients across Wigan Borough for more than 30 years and provide skilled care, help and support for over 1,000 people with a life-limiting illness every year.