ARCA Announces Gold Training Award Winners 2022
12th October 2022
ARCA is pleased to announce the member companies who have achieved the Gold Training Award for 2021/2022.
Congratulations to the 37 member companies who achieved this award and to the candidates for achieving the high average scores required.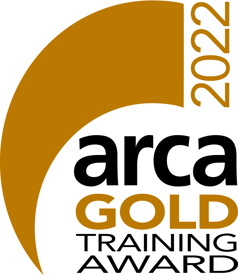 "We are still seeing challenging times in the industry, so it's great to see so many of our members gain the ARCA Gold Training Award this year," commented Satish Patel, Training Manager of ARCA.
"We are proud to have had another successfully year delivering centre-based training courses and remote courses, all of which are well supported by members.  Also, I am proud to have received such positive feedback on the content and delivery of our courses."
This award acknowledges the companies who have trained over eight operatives and/or supervisors with ARCA during the twelve-month period, and the candidates who achieved an average score of 92.5% or above.
These members are now able to use the ARCA Gold Training Award 2022 logo, recognising their achievement.
ARCA Gold Training Award Winners for 2021/2022
Addison Green Ltd
AIB Solutions Limited
All Clear Services Ltd
Alltask Ltd
Arco Environmental Ltd
ARCS Environmental Limited
Asbestech Limited
Axiom Building Solutions Ltd
City Building (Glasgow) LLP
Clifford Devlin Ltd
Decontaminate (UK) Ltd
DSM Demolition Ltd
Econ Group Ltd
Economic Insulations (Portsmouth) Ltd
ECT Environmental Ltd
Enviraz (Scotland) Ltd
Environmental Asbestos Solutions Ltd
Erith Contractors Limited
European Asbestos Services Ltd
Henderson Environmental Services Ltd
Horizon Environmental Ltd
Jackson Environmental Ltd
John F Hunt Ltd
Kershaw Contracting Services Ltd
LAR Ltd
Maylarch Environmental Limited
MCE Contract Services Ltd
Mick George Environmental Ltd
Northern Asbestos Services Ltd
Pier Contractors Limited
RH Insulation Services Limited
Rhodar Industrial Services Ltd
Roberts Environmental Services Ltd
Sanctus Limited
Southern Asbestos Services Limited
Thompsons Asbestos Services Ltd
Woods Building Services Ltd