ARCA announces Gold Training Awards
25th October 2016
The Asbestos Removal Contractors Association is pleased to announce the member companies who have been awarded a Gold Training Award for 2015/2016.
To achieve this award member companies trained over eight operatives and/or supervisors with ARCA during the twelve-month period, and the candidates achieved a collective score of 92.5% or above.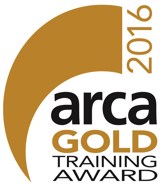 AIB Solutions Ltd - All Clear Services Ltd - Amity Insulation Services Ltd - Amstech Asbestos Removals Limited - Arco Environmental Limited - ARDS Ltd - Armac Environmental Ltd - Asbestaway Ltd - Asbestos Abatement Services - Asbestos Business Contractors Ltd - Aspect Contracts Ltd - Axiom Building Solutions Ltd - Bradley Demolition Ltd - Brown & Mason Ltd - Central Demolition Ltd - Central Environmental Services Ltd - Chamic Industrial Services Ltd - City Building (Glasgow) LLP - Clarkes Environmental Ltd - Clifford Devlin Limited - Cordtape Environmental Services Ltd - D Hughes Demolition & Excavation Ltd - Damada Asbestos Removals Ltd - Decontaminate (UK) Ltd - Econ Construction Ltd - ECT Environmental Ltd - Enviraz (Scotland) Ltd - Erith Contractors Limited - European Asbestos Services Ltd - Forest Environmental Limited - Furn Contracts Ltd - Grade 3 Limited - GTI Environmental Services Limited - H Smith (Engineers) Limited - Henderson Environmental Services Limited - Hereford Asbestos Services Ltd - Horizon Environmental Ltd - Inner City Environmental - Insul-Eight Environmental Ltd - Interserve Environmental Services - Jackson Environmental Limited - John F Hunt Demolition Limited - Kershaw Contracting Services Ltd - Kirklees Building Services - LAR Ltd - MIC Group Ltd - OCS Environmental Services Ltd - Omega Environmental Services Ltd - P McGuinness & Co Ltd - R & F Insulations Limited - Reddish Vale Insulations Ltd - RH Insulation Services Limited - Rhodar Limited - Specialist Building & Asbestos Services Ltd - Squibb Group Limited - Stork Technical Services Ltd - Woods Building Services Ltd
These members are now able to use the ARCA Gold Training Award 2016 logo, which has been especially designed to recognise their achievement.