ARCA announces the Association's first Charity Week
28th July 2016
Over the last few years many ARCA members have supported the Association's charities raising thousands of pounds, mainly through social events.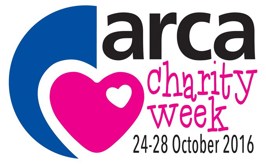 This year, for the first time, the Association is also holding a Charity Week, 24th – 28th October 2016, with all funds raised going to support two worthwhile causes.
ARCA announces the Association's first Charity Week
Mesothelioma UK - a national resource dedicated to supporting people with asbestos cancer, providing specialist Mesothelioma information, support & improved care and treatment. Also, through donations the charity plans to provide patients across the UK access to mesothelioma clinical nurse specialists.
Indee Rose Trust - helps children, and their families, who have been diagnosed with a brain or spinal tumour, by providing support such as, bespoke treasure boxes full of treats and holiday accommodation for the children and their families.
"There are some fund raising events already planned as a few members have signed up to some tough challenges and we have social events happening in September and November," commented Steve Sadley, Chief Executive of ARCA.
"We hope members will support this initiative in some way, whether by running, climbing, playing football or baking cakes, to raise some funds and enjoy themselves too."
Get involved >