ARCA Announces the First NVQ for Experienced Operatives
8th February 2017
The Asbestos Removal Contractors Association (ARCA) announces the availability of the first National Vocational Qualification (NVQ) for experienced asbestos removal operatives in the UK.
For asbestos removal operatives to gain access to work on many construction sites they require a CSCS card. The application criteria to obtain a CSCS card is changing and operatives will need to hold an 'NVQ Level 2 Diploma in Removal of Hazardous Waste (Construction) - Licensed Asbestos'. Due to these forthcoming requirements ARCA has developed NVQ assessment options for both experienced operatives and for those with less experience in the role.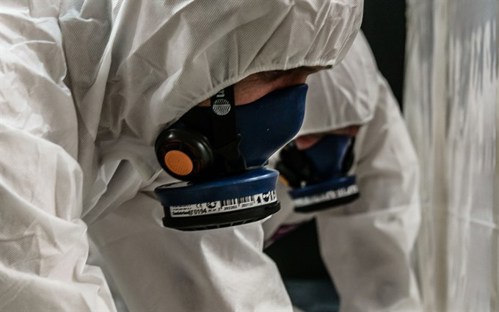 "Changes to the requirements needed for operatives to gain a CSCS card <blue skilled worker card> were announced last year. ARCA immediately began to develop assessment options to enable operatives to gain an NVQ, and thereby apply for CSCS cards. I'm pleased to say, after a lot of work by the team at ARCA, these qualifications are now available to support members and the industry," commented Grant Beglan, Chairman of ARCA.
Operatives, with more than a years' experience but less than three years' experience, can gain an NVQ by choosing the On-Site Assessment and Training (OSAT) option, which involves completing five assessment units within a twelve month period.
Operatives with in-depth practical skills and confidence in the role, therefore most likely having three or more years' experience in the role, could choose the Experienced Worker Practical Assessment (EWPA) as an alternative to OSAT. The candidate will undertake a thorough practical assessment, over one day, at an ARCA centre to demonstrate the skills specified by the NVQ.
"We know that operatives' holding a CSCS card is vital for many of the asbestos removal contracts our members undertake," stated Satish Patel, Training Manager for the Asbestos Removal Contractors Association.
"Today we are delighted to be able to offer a complete NVQ solution for asbestos removal operatives. As well as offering NVQs depending on the experience of an operative, we are also offering employers cost-efficient routes for those who pay the CITB Levy and for those that don't."
"We have received a lot of interest in the NVQs. A number of member companies are already committed to enrolling all their operatives, as acting sooner rather than later, means operatives are on route to holding, or holding, a blue skilled workers' card before the changes come into force," concluded Satish Patel.
Further details on all the NVQ options offered by ARCA for asbestos removal operatives are available here