ARCA continues to support competency in the industry
11th July 2018
Development – Delivery – Quality – Standards – Regulated
Today ARCA provides the most comprehensive and quality assured routes to qualifications, and CSCS cards, for the licensed asbestos removal industry.
Over the last decade no organisation has invested as much resource as ARCA into developing quality qualifications and a choice of qualification routes for the licensed asbestos removal industry. Particularly over the last three years since the decision by the Construction Leadership Council, that qualifications leading to CSCS cards must be an NVQ, if an NVQ for that occupation exists.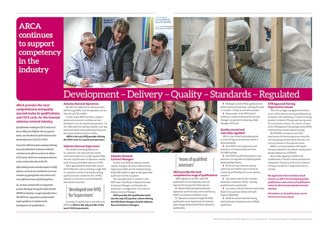 "Working in this hazardous and therefore highly regulated industry, workers competency is crucial for their health and safety and that of others," commented Steve Sadley Chief Executive of ARCA.
"ARCA has worked tirelessly to provide the industry with the most comprehensive range of qualifications, which are delivered by our in-house team of experienced and qualified assessors."
The Association has worked with CITB and with its long-term partner the Royal Society for Public Health (RSPH) to develop a range of qualifications.
Asbestos Removal Operatives
ARCA offers the On-Site Assessment and Training (OSAT) route, via CITB and RSPH, and is the only provider offering the RSPH route for experienced operatives.
Asbestos Removal Supervisors
ARCA approached the Sector Skills Council (SSC/CITB) with a view of creating a single NVQ for supervisors. Now the first Level 3 NVQ for supervisors is offered by RSPH and ARCA is the only provider of the assessments.
Asbestos Removal Contract Managers
The RSPH Level 4 Certificate in asbestos Removal for Contract Managers is recognised for CSCS cards for managers. This qualification is provided by ARCA, who is also the only CSCS partner scheme offering the CSCS black managers card.
An article on the range of qualifications available from ARCA, and how quality is assured, is available to read here
On the ARCA website is detailed information on qualifications, as well as CSCS cards.