ARCA hosts Japanese delegation
29th November 2016
On Friday, 25th November 2016, Steve Sadley and Satish Patel had the honour and privilege to receive a Japanese delegation.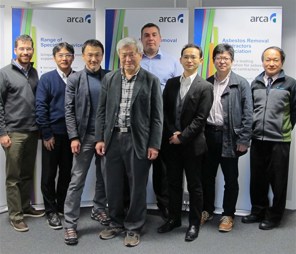 The delegation included members of the Asbestos Surveyors Association (ASA) Japan, an occupational health consultant, journalists who write on environmental issues, a researcher and their translator who works for an analyst laboratory in Japan.
The meeting started with a technical discussion, aimed at expanding ideas on asbestos removal practices and the skills required by asbestos removal workers in the UK. The delegates had visited the HSL research labs in Buxton the day before and were keen to see in practice the ventilation of enclosures and how this can be used as a control measure.
The delegation toured the training facilities at Burton and were impressed with the provision allocated to deliver quality training. In particular, the approach of using water based showers in DCUs as opposed to air showers, which are used in Japan.
The entire team went away with a good understanding of the standards within the UK's asbestos removal industry and how ARCA supports its members.
Following this visit Aspect Contracts arranged for the delegation to visit asbestos removal sites.