ARCA News magazine Autumn 2022 now online
11th October 2022
This latest issue covers new guidance, ALFA developments, asbestos surveys and duty holder's legal responsibilities, and much more.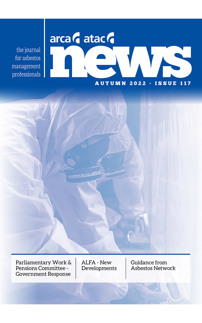 Read about the developments made to ALFA and the latest guidance from Asbestos Networks, covering DCU services and non-asbestos risk assessments.
There is an article on asbestos surveys and how duty holders' have a legal responsibility to ensure an asbestos surveyor is competent.
Also, this issue covers the Government response to the Parliamentary Work and Pensions Committee inquiry into HSE's approach to asbestos management.
Keep up to date … read the ARCA News magazine.
A must read for asbestos management professionals … available here