ARCA News magazine Winter 2021 now online
16th December 2021
In this issue the Association talks about the ARCA Annual General Meeting 2021 which was held in October, including the presentation given by the HSE, covering The Analysts' Guide and an Asbestos Unit update.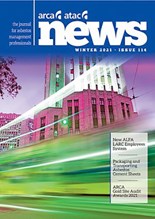 Plus see who won the ARCA Gold Site Audit and Gold Training Awards for 2021.
The new ALFA rating app developed to support member contactors' training and development programmes is explained, and there is guidance on packaging and transporting asbestos cement sheets for disposal.
And finally, don't miss the dates for the ARCA member regional meetings in February 2022.
The ARCA News magazine is a must read for asbestos management professionals … available here