ARCA now issuing Supervisor CSCS Cards
30th May 2018
ARCA announces the availability of Asbestos Removal Supervisor CSCS cards under the ARMI Skills Card Scheme.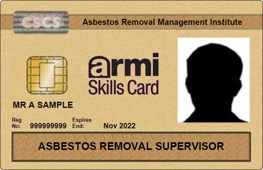 Temporary Red cards and 5-year Asbestos Removal Supervisor Gold cards, are now available from ARCA, both as physical and virtual smartcards.
ARCA now issuing Supervisor CSCS Cards
Asbestos Removal Supervisor (Trained) – red card, valid for 3 years, not renewable
Asbestos Removal Supervisor (Experienced Worker) – red card, valid for 1 year, not renewable
Asbestos Removal Supervisor – gold card, valid for 5 years, renewable
Applications can be made by employers or individual supervisors for a card, with proof of the required training and/or qualification(s) for that particular card being submitted with the application form.
"With the addition of the supervisors' cards, I'm delighted that we are now able to offer the full range of CSCS cards for asbestos removal staff. That is temporary and skilled worker cards for operatives, supervisors and managers," commented Steve Sadley, Chief Executive of the Asbestos Removal Contractors Association (ARCA).
"We continue to receive card applications daily, with virtual smartcards being requested by the majority of applicants. There have been some applicants who have left their application to the last minute so the availability of a virtual smartcard, which can be on their phone (after downloading the app) within minutes of the application being processed, has definitely been a benefit to them."
To read about the requirements for Asbestos Removal Supervisor cards and to download an application form please visit Supervisor CSCS Card webpage or call ARCA on 01283 505778.