ARCA receives Centre of Excellence Award from RSPH
12th September 2019
On behalf of the Association, Steve Sadley and Satish Patel, were delighted to accept the Centre of Excellence Award yesterday at the RSPH Hygeia Awards 2019 event in London.
The Royal Society for Public Health (RSPH) Centre of Excellence Award recognises centres which show commitment to their learners through high levels of teaching and support, alongside proven high pass rates.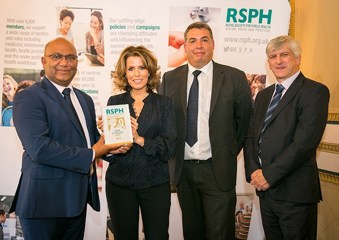 "This is a superb acknowledgement from RSPH and a tremendous boost the team delivering the RSPH qualifications," commented Satish Patel, Training Manager for ARCA. "The teams' commitment in supporting our candidates is recognised by this award. When supported well, candidates perform well."
"ARCA and RSPH have been working together for over 15 years to support the asbestos management industry. I believe one reason that our working relationship is very strong is that we share the same values of excellence and integrity," commented Steve Sadley, Chief Executive of ARCA.
"On behalf of the industry I would like to acknowledge the huge input made by ARCA and RSPH to support us. They listen and take on board what we say, and have developed strong qualifications that we, operating in a hazardous and highly regulated industry, really need," stated Scott Murray, Member of the ARCA Governing Council and Chair of the ARCA Training Committee.