ARCA Staff Complete Bike Challenge for Charity Week
27th October 2016
Team covers 480 miles in under 24 hours, The ARCA team started their challenge on Monday, leaving Glasgow at 9am, and after three working days on an exercise bike in the office, that is nearly 24 hours, they reached Rayleigh.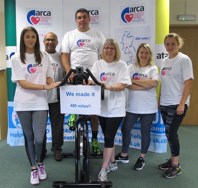 There was some testing and painful times, but a great team spirit from all – Steve, Satish, Nicci, Isabelle, Giulia, Lucy, Sarah, Colin and Geoff.
Congratulations to all the team for their fantastic effort to support the ARCA Charities, Mesothelioma UK and the Indee Rose Trust.
You can still sponsor the ARCA Team by donating at www.justgiving.com/teams/ARCACharityWeek