ARCA Staff support Association's Charity Week with Bike Challenge
10th October 2016
To support the Association's charities, some of the staff at the head office in Burton upon Trent, will be biking 480 miles.
ARCA Staff support Association's first Charity Week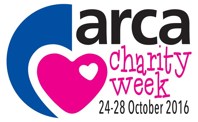 The team aim to cover the 480 miles, the distance between its furthest training facilities in Glasgow and Rayleigh, on an exercise bike in the office. At 9am on Monday 24th October the team will begin and continue throughout the working days, completing before the end of business on Friday 28th October.
It's a challenge but the team, some not as fit as others, are determined to cover the mileage in the time!
Follow the team's progress at www.twitter.com/arca_org_uk and see some live coverage at www.facebook.com/arca.org.uk
The Charity Week is to support two worthwhile causes - Mesothelioma UK, which is a national resource dedicated to supporting people with asbestos cancer, and the Indee Rose Trust, which helps children, and their families, who have been diagnosed with a brain or spinal tumour.
You can sponsor the ARCA Team by donating at www.justgiving.com/teams/ARCACharityWeek