ARCA supports CITB in making an asbestos awareness video
30th January 2020
ARCA supported CITB in the creation of a short video, with the aim to increase awareness of the dangers of asbestos to construction workers.
C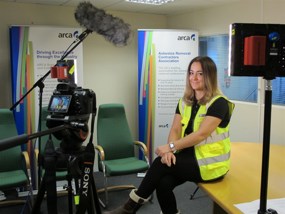 ITB commissioned 'On the Tools' to produce a video, as many construction workers are not aware of what asbestos is, where it can be found or the dangers. The Association was keen to support CITB in this task, so improving plumbers, electricians, joiners and other construction worker's understanding of asbestos and the risks.
CITB, 'On the Tools', (online construction community), and ARCA member, Northern Insulation Contractors (UK) Limited (NIC) visited ARCA's Head Office in Burton to film a variety of content including; essential asbestos knowledge, health affects of asbestos and the licensed asbestos removal process.
"A big thank you to Sarah Costello, Director at NIC for providing her invaluable knowledge, and to Mat Butler, Matt Amison and Joe Lombardi from 'On the Tools' for filming the video," commented Satish Patel, Training Manager for ARCA.
"We hope that this video will increase awareness of asbestos, and the risks amongst employers and employees in the construction industry."
You can watch the full video here.