Association issues 100th CSCS card
15th February 2018
Following announcing the availability of CSCS Cards through the Association, 100 ARMI Skills Cards have now been issued.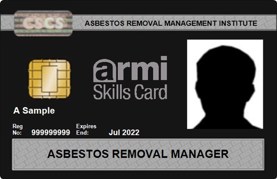 These cards, for asbestos removal operatives and managers, together with cards for asbestos analysts and surveyors, have been issued as both physical smartcards and also as virtual smartcards.
"The volume of take up has been quicker than we thought," commented Steve Sadley, Chief Executive of ARCA.
"Also, virtual smartcards have been requested by the majority of applicants, as they can have a card on their phone (after downloading the app) within minutes of the application being processed. There have been some applicants who have left their application to the last minute, so this service has definitely been a benefit to them!"
Information and application forms for ARMI Skills Cards can be found here