Clarkes Environmental receives ARCA National Training Award
16th November 2016
At the ARCA Annual General Meeting in October, Clarke's Environmental was presented with the ARCA National Training Award.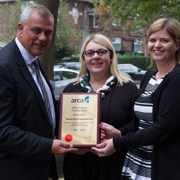 Clarkes Environmental receive ARCA National Training Award 2016
The National Training Award 2015/2016 was received as Clarke's trained 29 asbestos removal operatives and/or supervisors with ARCA, and their candidates achieved the highest average score across all candidates trained in this period.
"Congratulations to the team at Clarke's Environmental. Candidates collectively scored an average of 95.7% which is a great achievement," commented Satish Patel, ARCA Training Manager.
Photo: Grant Beglan, Chairman of ARCA, with Vicky Wilson and Andrea Weighell of Clarke's Environmental, winners of the ARCA National Training Award 2015/2016