First Supervisor to gain Level 3 NVQ through ARCA
14th March 2019
Asbestos Removal Supervisor gains NVQ Diploma and Gold CSCS card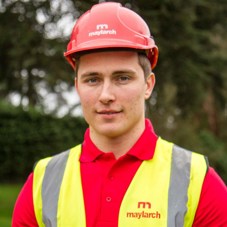 ARCA announces the first asbestos removal supervisor to gain the Level 3 NVQ Diploma in Supervising Licensed Asbestos Removal (Construction).
Gavin Widdows, supervisor at Maylarch Environmental Limited, completed his assessment over three allocated days at three different refurbishment/demolition sites. The ARCA assessor witnessed Gavin running well managed removal work on all three sites, and that end-clients were keen to give positive feedback on his site management.
"Congratulations to Gavin on a magnificent effort," commented Satish Patel Training Manager for ARCA. "He performed very well on all sites, delivering solid evidence, which verified his knowledge, understanding and skills."
"My thanks to Maylarch, who were supportive in planning suitable sites for assessment. This helped our planning and enabled Gavin to complete his NVQ in the shortest possible time."
This Level 3 NVQ Diploma was developed by ARCA specifically for asbestos removal supervisors, following consultation with industry, as otherwise supervisors needed to gain two qualifications to apply for a CSCS card.
On gaining this one qualification, ARCA, at Maylarch's request, processed Gavin's CSCS card application, so he received an NVQ certificate from RSPH (awarding body) and a gold CSCS card.
Information on the Level 3 NVQ for asbestos removal supervisors is available on the ARCA website, along with details on CSCS cards.