Licensed asbestos workers to continue with medical examinations every two years
1st February 2018
In October 2017 a proposed change to Regulation 22 of the Control of Asbestos Regulations 2012 (CAR 2012), was the subject of a public consultation.
Following the post implementation review (PIR) of the Control of Asbestos Regulations (CAR 2012) recommending exploring the possibility of reducing the frequency by one year with which licensed asbestos workers undergo medical examination.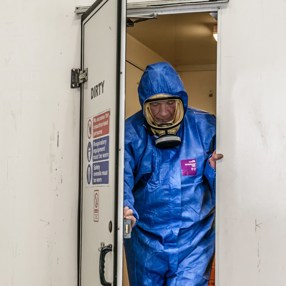 HSE has published the analysis of the consultation responses.
In light of the responses HSE received on this consultation, HSE has decided not to proceed with the proposed amendment at this time. Therefore, licensed workers will continue to be examined by an HSE appointed doctor every two years and those undertaking notifiable non-licensed work will continue to be examined every three years.
HSE has concluded that the proposed amendment would have had no negative impacts on workers' health or altered the prognosis of those whose previous exposures may have resulted in asbestos-related disease. CAR 2012 puts in place a robust regulatory framework of management through risk assessment and control of exposure to asbestos in the workplace; it is and will continue to be key in preventing asbestos-related disease.
The analysis of the consultation responses is available online here