Members support young children with tumours
15th March 2018
£10,500 raised for Indee Rose Trust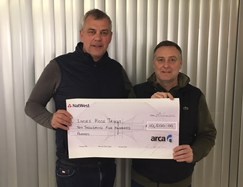 Last year ARCA members supported the Indee Rose Trust through various events and the ARCA Charity Week.
Through donations this charity supports children who have been diagnosed with a brain or spinal tumour, and their families. One way they support children, who spend such a long time in hospital, is by putting together personalised treasure boxes, with gifts to bring some enjoyment to the children and make them smile.
"We were delighted to support the Indee Rose Trust charity, raising £10,500 to support children and their families who have been diagnosed with a brain or spinal tumour," commented Grant Beglan, Deputy Chairman of ARCA.
Russel Dopson, co-founder of the Indee Rose Trust commented, "Thank you to everyone who participated and donated to the ARCA Charity Week, the support you have provided over the last two years has been fantastic. The funds raised will help us help many children and their families, by supplying individual treasure boxes and running our holiday homes, which allow a child and their family to spend precious time together."
Many members got involved in the ARCA Charity Week September 2017 by taking part in and holding various events, including biking, abseiling, skydiving, walking and cake baking.