More members book extra ARCA site audits - Independent audits support performance management
8th February 2022
Last year ARCA saw a 77% increase in the number of additional audits carried out for member contractors compared to the previous year.
"We are talking to more and more members as they see the benefit of having extra independent audits, especially for supporting licence renewal," commented Juliette Church, Site Audit Manager for ARCA.
"These additional audits support and strengthen members' audit programmes, as every audit undertaken provides information about performance."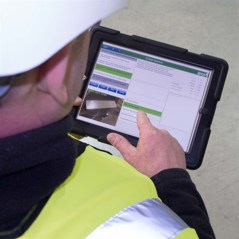 A strong audit programme, made up of internal and external audits, supports a contractor's licence renewal application, as the HSE will want to know information such as: audit strategy and how often audits (internal and external) are carried out.
Last year 58% of the additional audits carried out were unannounced, so the member and their on-site team have no prior notice of an ARCA auditor's arrival.
Arranged additional audits (42%) are when the member asks for a specific site to be audited, however this doesn't mean they know exactly when an auditor will come on the site. A contractor may arrange an audit to receive independent feedback for the work being carried out on that site for a number of reasons, such as, a new supervisor is on site, or the team is undertaking removal in a difficult location.
It is also important to note that ARCA additional site audits follow the same criteria as the membership audits under the Association's site audit accreditation scheme, so enabling a direct comparison of results which provides a stronger management tool.
More information on audits and additional site audits can be found here