New ARCA training venue in Bristol
13th June 2017
ARCA is pleased to announce a new training venue in Bristol, following a partnership with SMH Products Ltd (an associate member of ARCA).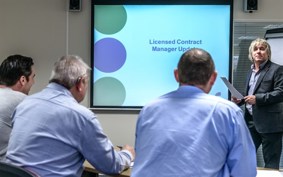 "This new training venue is a great way to support our members. We are extremely grateful to SMH for agreeing to share their training facilities with us," commented Satish Patel, Training Manager at ARCA. "It's an excellent facility offering both practical areas and classrooms, which we used for the first-time last month to hold a Licensed Contract Manager training course."
To support members in the South West & Wales, ARCA is now offering Operative, Supervisor and Contract Manager training courses at the SMH facility in Avonmouth.
The next courses to be held are:
25th July 2017 - Licensed Contract Manager Update
26th July 2017 – Licensed Contract Manager
2nd August 2017 – Industry Refresher for Operatives
Details on the training courses being held at the Bristol venue can be found here