New Developments to ARCA Site Audit App
25th April 2019
ARCA announces two new developments to the Association's Site Audit App to enhance communication of information to Members.
ARCA auditors use the App to record performance against all site audit criteria, including photographs, and once completed a report is emailed to the member's manager.
Now the App identifies and collates any non-conformities within the audit report and presents the information within a separate Corrective Action Report. This is made available to the member immediately the site audit is completed, via email, and improvements are highlighted in importance so a member can take action in a timely manner. This enables some actions to be rectified without delay and for many projects, this could be while the asbestos removal work is still being undertaken.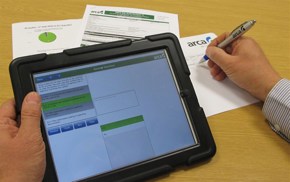 Also, the App now scores the audit automatically. By using numerical scoring, which reflects the 'standardised' marking scheme, the App sums the scores and this is then converted into, and communicated as, a grade.
"These developments to our unique Audit App have been undertaken to support our members by supplying audit information in a clearer way and more quickly. There have been no changes to the actual audit criteria," commented Geoff Silver, ARCA Membership Compliance Manager.
"The scoring has been tested on both simulated audits and live audits, and all were verified, showing that the automatic scoring is highly accurate."
Once an ARCA Auditor has completed a site audit the member will receive an email confirming the grade given to the site audit, along with a full audit report attached, and a corrective action report attached if appropriate. Verification of awarded grades will be carried out on all audits for a short period and then on a selected basis.
Further information on ARCA site audits and the Site Audit Accreditation Scheme can be found here.