Own an original 'Portrait of your Pet' and support ARCA Charity Week
19th October 2016
If you or a member of your family has a much loved pet, whether it's a dog, cat or rabbit, you could commission an original portrait.
All you have to do is place a bid! Own an original 'Portrait of your Pet' and support ARCA Charity Week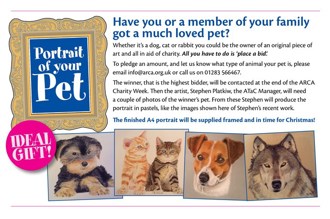 It's easy, just email info@arca.org.uk or call 01283 566467 to pledge an amount before 5pm on Friday 28th October.
The winner, that is the highest bidder, will be contacted on Monday 31st October. Then the artist, Stephen Platkiw, will need a couple of photos of the winner's pet, from which he will produce a portrait in pastels.
The finished A4 portrait will be supplied framed and in time for Christmas.
The Charity Week is to support two worthwhile causes - Mesothelioma UK, which is a national resource dedicated to supporting people with asbestos cancer, and the Indee Rose Trust, which helps children, and their families, who have been diagnosed with a brain or spinal tumour.