Record attendance at Summer Member Regional Meetings
5th July 2018
This Summer saw an incredible attendance at the ARCA member regional meetings, with the South East meeting attracting a record 41 attendees.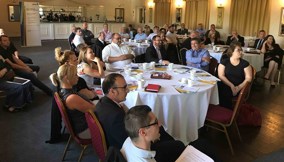 The Association's member regional meetings are held as a forum to provide information, instruction and training, and the summer round of meetings was no exception. During these meetings members heard about and discussed the HSE draft Plan of Work guidance, the new RSPH Level 3 NVQ for asbestos removal supervisors and the high standards of work demonstrated by ARCA members via the Association's Site Audit Accreditation Scheme. Asbestos removal contractors were also able to talk to some associate members/suppliers and hear about a new software management product.
"Three times a year we hold six member regional meetings, which includes two in the North of England, and all consistently attract good numbers of attendees. Yet this June the South East meeting broke the record with 41 attendees," commented Steve Sadley, Chief Executive of ARCA.
"These meetings are excellent for us to meet members and provide information, as well as being a forum for discussion and member networking."
In November 2017 ARCA began to issue Certificates of Attendance to all individuals that attend member regional meetings as a record that those individuals had received the information, instruction and training listed on the certificate.
Don't miss the next member regional meeting in your area - dates can be found here